Classic Jordan, Israel and the Palestinian Territories
Booking Dates
07/02/2023 through 11/18/2024
Travel Dates
07/02/2023 through 12/05/2024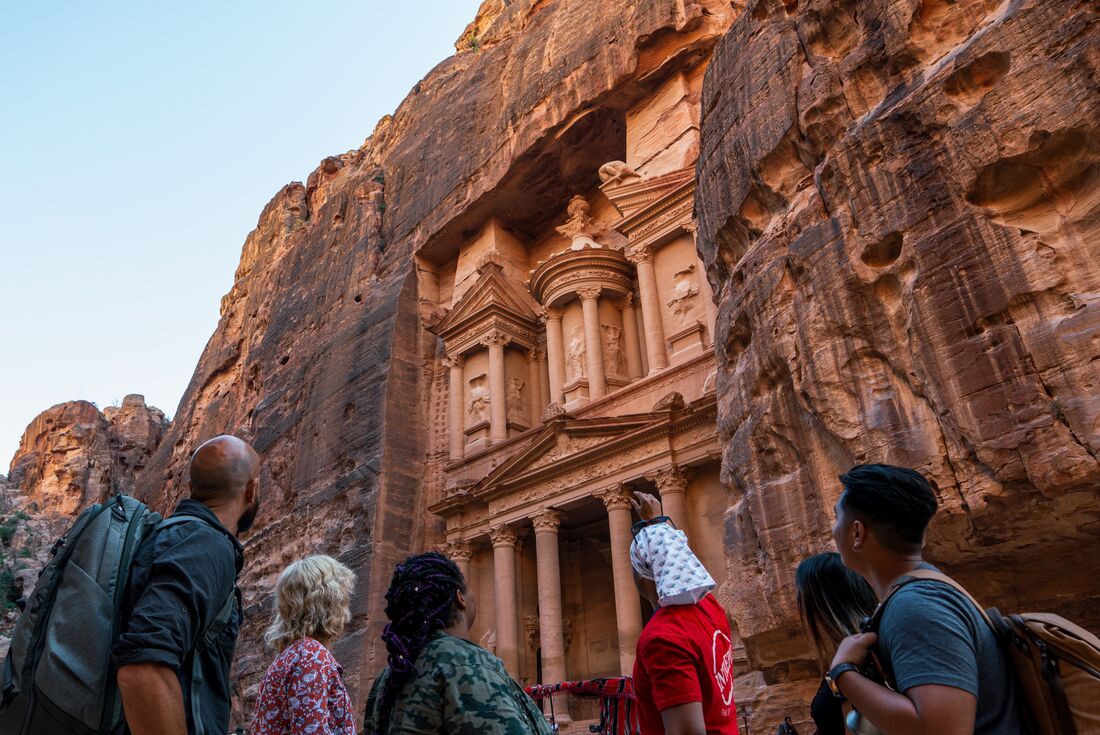 Classic Jordan, Israel and the Palestinian Territories

Tread some of the most ancient, revered paths known to humankind as you travel through Jordan, Israel and the Palestinian Territories. Begin in Amman, Jordan's capital, and make your way through the desert sands of Wadi Rum to the lost city of Petra. Head into Israel and visit holy sights including the Church of Nativity, the Garden of Gethsemane, the Church of the Annunciation, as well as the Masada fortress. Explore the Ramon Crater in the Negev Desert and float in the Dead Sea before this trip comes to an end.

Activities
Complimentary Airport Arrival Transfer
Wadi Rum – Desert Jeep tour
Petra – Guided tour
Petra – Home-cooked meal
Shobak – Shobak Castle
Madaba – St Georges Church
Dead Sea – visit and swim
Jerash – Roman ruins
Tel Aviv – Welcome Dinner
Haifa – Bahai Gardens view & photo stop
Jaffa – Old Port Tour
Tel Aviv – Lewinsky Market Visit
Nazareth – Church of Annunciation & Mary's Well
Nazareth – Wine Tasting
Akko – Knights Fortress Visit
Beersheba – Anzac Memorial
Mitzpe Ramon – Ramon Crater Jeep Safari
Negev – Lakiya Negev Bedouin Weaving visit and lunch
Masada – Masada visit
Dead Sea – Visit and float
Jerusalem – Garden of Gethsemane
Jerusalem – Mount of Olives
Jerusalem – Guided tour of Old City
Bethlehem – Church of the Nativity & Shepherds' Field
Bethlehem – Refugee Camp Cooking Class
Bethlehem – Separation Barrier Graffiti Tour
Highlights
You'll never forget your first glimpse of The Treasury in Petra. Spend a day taking in the majesty and mystery of this unforgettable place on a guided tour then enjoy free time to explore.
Experience the unique sensation of floating in the super-salty waters of the Dead Sea, then cover yourself in the mineral-rich mud for a spa treatment like no other.
Sample local wines like the region's famous Syrah and join a cooking class in at a refugee camp in Bethlehem.
Meet Bedouin locals, learn about their ways, and sleep under the stars in a desert camp in the far-out destination of Wadi Rum.
Explore the Ramon Crater in the Negev Desert in a 4WD, spotting constellations unimpeded by light pollution on a tour with an expert local guide.
| Day | Description | View All |
| --- | --- | --- |
| Day 1 | Amman | Details |
| Day 2 | Wadi Rum | Details |
| Day 3 | Aqaba | Details |
| Day 4 | Petra | Details |
| Day 5 | Petra | Details |
| Day 6 | Amman | Details |
| Day 7 | Amman | Details |
| Day 8 | Tel Aviv | Details |
| Day 9 | Nazareth | Details |
| Day 10 | Nazareth | Details |
| Day 11 | Mitzpe Ramon | Details |
| Day 12 | Jerusalem / Dead Sea | Details |
| Day 13 | Jerusalem | Details |
| Day 14 | Jerusalem / Bethlehem | Details |
| Day 15 | Jerusalem | Details |